Mike Holmes Daughter Sherry Holmes Husband Blake Steed & Kids
The renovation expert and TV personality Sherry Holmes turned 34 this June. She is the daughter of Mike Holmes, a prominent figure in the construction industry, and the founder of Holmes foundation in 2006.
Sherry was born in 1987 in Ontario, Canada, to father Mike and mother Alexandra. She is a renowned TV personality with shows like 'Home Inspection'and 'Holmes- The next generation' under her belt. Sherry also works as an interior designer and motivational speaker.
We know pretty much about Mike Holmes' daughter Sherry Holmes in relation to the TV and construction industry. Hence, this article is dedicated to providing insights into Sherry Holmes' husband and kids.
Sherry Holmes is married to her Husband Blake Steed
Sherry Holmes met Blake Steed at work in her father's construction company. At first, there was nothing special in the relationship, and they were just two colleagues at work.
However, as they worked with each other, shared experiences, and got to know each other more, the duo became pretty close. Finally, after about a year, they were officially in love.
Sherry and Blake Steed engaged in July 2017. After that, we saw the couple in public on many occasions. They also shared photos on their Social media handles.
Sherry proudly flaunted her engagement ring everywhere she went and on the show. After about 15 months of the engagement, the couple decided to take their relationship to the next level.
In December 2018, the couple exchanged wedding vows. They held the reception in an island in Santa Lugia on Dec 13, 2018. At the time of the wedding, Sherry was already pregnant, and the couple was expecting a baby in 4 months.
A casual work relationship turned into marriage for Sherry and Blake. And they are really happy in their relationship. Sherry also shared the stunning wedding photos in her Instagram Handle.
Blake shares a passion for building houses with his wife. In the past, he worked for Mike Holmes' crew at the construction company.
He always had a crush on Sherry and finally proposed to the girl. Today, they are happily married and have a baby daughter.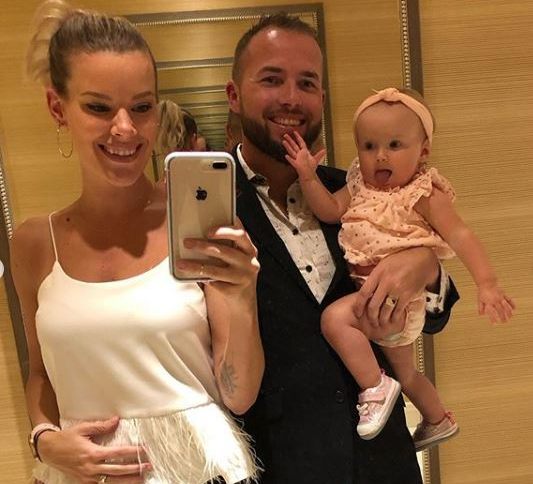 Kids
Sherry Holmes shares a daughter with her husband, Blake Steed. They gave birth to Cali Kay Holmes Steed on April 22, 2019, just three months after their wedding. The TV star was six months pregnant with Cali at the time of her wedding reception.
Cali recently celebrated her birthday in April and turned two years old in 2021. Sherry frequently comes live in her Instagram handle with her cute daughter.