How Much Does It Cost to Paint a Kitchen Cabinet? Ways to Lower the Cost and Still Have Great Results.
Home improvements are a growing trend now. Remodeling old Kitchen Cabinets can be a significant factor in enhancing your new home. It can be the upgrade you always needed for the sake of aesthetics and usability.
Repainting kitchen cabinets can revive your old and dusty kitchen and elevate your cooking experiences. In addition, repainting kitchen cabinets are much more economical than replacing them all.
This major upgrade has a bit different cost considerations as painting kitchen cabinets is different from painting flat walls.
And it is a brilliant plan to look up online costs to make a proper estimation. This article explains how much it costs to paint a kitchen cabinet. Furthermore, additional information on how you can lower the cost without compromising on quality is also discussed.
Factors that Determine the Cost to Paint a Kitchen Cabinet
Painting kitchen cabinets require careful consideration because they experience heavy use and are often exposed to high temperature and vapors.
The cost of painting cannot be predicted with precision. However, we can make an estimate by analyzing several factors that can affect the cost. Below are some factors in brief.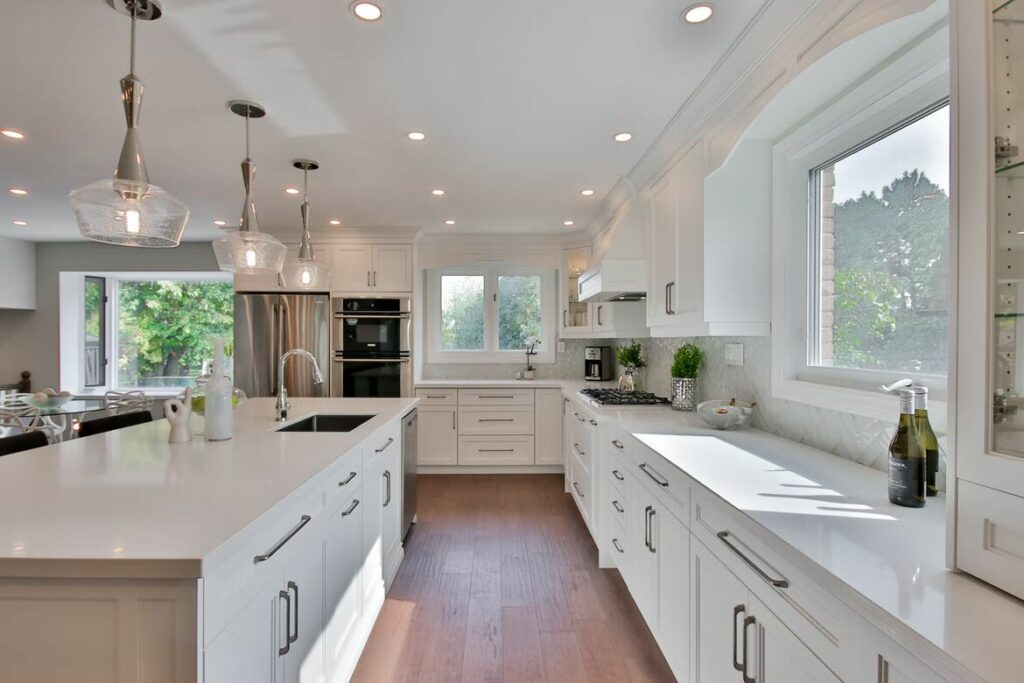 ·       Size of the Kitchen Cabinet
The larger the surface area to be painted, the more paint is required. And more paint certainly demands more budget.
Upon industry analysis, we can find that painting kitchen cabinets can cost from $4 to $15 per square foot. In addition, kitchen cabinet surfaces are not flat and smooth like walls. Thus, we can imagine extra paint and labor being consumed in the process.
A larger kitchen comes with more cabinets. This size factor impacts everything from labor cost, and time, to the quantity of paint.
·       Type and Quality of the Paint Used
The first expenditure is to buy the paint. Not every paint is created equal. Some expensive paints leave a beautiful glossy finish on the surface, while other cheap options can result in even irregular surfaces.
As kitchen cabinets are exposed to different chemicals/substances, the paint here needs to be thick to handle adverse situations. Paints like eggshells or satin will start falling off in a few months when applied to the kitchen cabinets as they are less durable.
For kitchen cabinets, we seriously suggest you choose good and thick quality paints and stains. They not only decorate the visuals but only make up for a highly durable kitchen cabinet. Finally, primer selection should also be done with careful consideration.
·       Type of Service
Painting is not just about dipping the brush and unleashing colorful strokes against the walls or cabinets. It starts with preparing the surface, disassembling the parts, moving the existing appliances to another room, and finally applying the primer, followed by the paint.
If your kitchen is new and empty, you can skip a lot of these services. However, if you are remodeling an existing kitchen, there will be some extra costs involved.
·       Extra Labor for Complexities
More often than not, painting a kitchen cabinet calls for other unnecessary expenditures. If the kitchen is heavily equipped, you might have to relocate everything before you start remodeling work. There are also several other complexities that must be taken into account.
If there is any damage to the wall or cabinet surface, it must be fixed prior to the painting. Many people might prefer to just paint over the damage, but this can lead the paint to fall off the surface.
We always recommend first repairing the damage and then moving on to the next phases.
Finally, what is the current condition of the Kitchen cabinet? In some cases, old paints might need scraping off. The surface and inclination of the wood also affect the workflow.
If the kitchen cabinet is full of curvy designs, it takes a lot of time to get work done as compared to painting smooth and even surfaces.
The Cost to Paint a Kitchen Cabinet Professionally
For homeowners who do not want to compromise even a bit when it comes to painting quality, hiring professional painters is the way to go. Most professional painters who work on a square foot basis can charge up to $15 per square foot.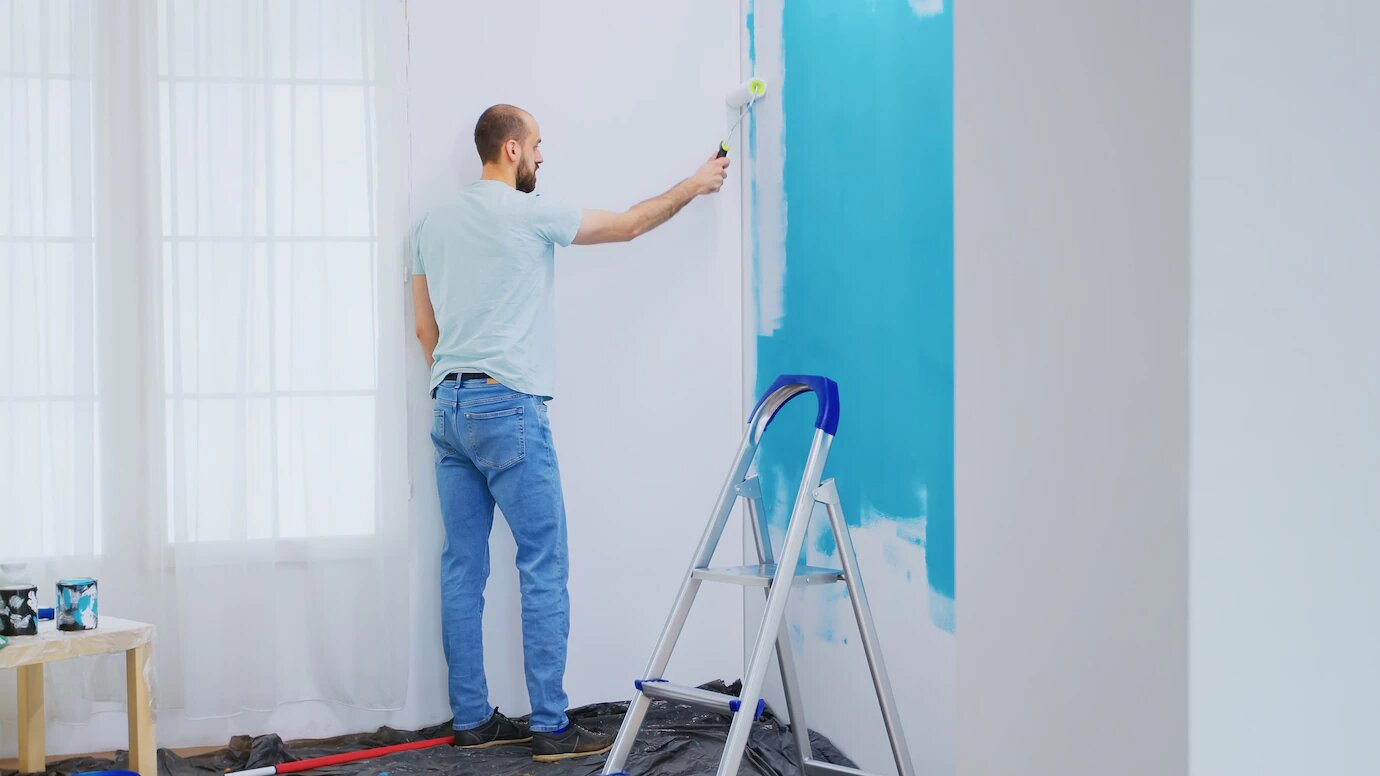 If you want a number that includes all kitchen sizes and work quality, we estimate that hiring a professional painter can cost from $1000 to $8000. This cost is a big generalization. Let's have a look at specific cases so that you can determine what it will cost to paint your kitchen cabinet with utmost precision.
Cost Ranges for Professional Kitchen Cabinet Painting
| | |
| --- | --- |
| General Average Cost | $2500 |
| Minimum | $500 |
| Maximum | $10,000 |
| Common Range | $1200-$6000 |
There are many bases for calculating the cost of professional painters. Some charge per cabinet door while some calculate the overall cost by linear foot measurement. If your kitchen cabinet is more than 8 feet tall, you have to pay an additional cost for the top areas.
Professional painters can either charge per item like doors or cabinets. Or you can offer them on an area basis. Below is the table of cost estimation for each of these methods.
While studying the table, keep in mind that these costs are for average quality paintwork. If you need multiple coatings and highly expensive lacquer paints, the cost will go up accordingly.
Professional Kitchen Cabinet Painting Pricing Methods
| | |
| --- | --- |
| Cost Calculation Method | Dollar Bills |
| 1 Square Foot | $12 |
| 1 Linear Foot | $45 |
| One Drawer | $25 |
| One Door | $75 |
| One Cabinet | $145 |
According to your deal with the painter, the raw materials can either be purchased by you or they will take care of everything. If the cost of paints and primers is not included in the deal, you can purchase them separately and provide them to the painters.
Below is a reference table of the number of gallons of paints required for different kitchen sizes.
| | | |
| --- | --- | --- |
| Size of Kitchen Cabinet | Gallons of Paint Required | Cost of Paints (Average quality) |
| S | 1 | $30 |
| M | 1-2 | $45 |
| L | 2-3 | $90 |
If you want professional paint in your kitchen cabinets, you have to invest at least $1200 for satisfactory work. This is assuming that you have an average-sized kitchen cabinet and are buying medium-quality paints. You can make even more precise calculations from the information below.
Professional Kitchen Cabinet Painting Costs for Rolling and Spraying
Most professional painters like to use spray paints. However, you can specifically request them to use rollers and brushes instead. All of these methods will result in different costs. But the spray-painting process is the best and most expensive one.
The cost of hiring professionals is almost the same in all processes. You just have to invest further in renting a spray gun which will cost you about $90 per day.
In addition, the spray paints require a bit higher quality lacquer paints which will add to the total cost. If you are confused about whether you should opt for roller paints or spray paints, have a look below.
Quick Pro Tip: You can borrow spray guns from friends to save additional costs on the paint job.
Spray Paints vs Roller Paints in Kitchen Cabinets
Roller paints tend to leave thicker and more consistent layers in the walls and cabinets. Furthermore, they are also effective in repainting cabinets as they can easily cover up old and dark paints.
For walls, they are the best as well as the most economic options. However, kitchen cabinets have a different set of requirements.
Kitchen cabinets have complex surfaces depending entirely on their design. For narrow surfaces and paintworks that require detailing, spray guns are the way to go.
They leave a smooth and evenly distributed paint on the surface. Spray guns come in handy when the surface is complex and quite unreachable.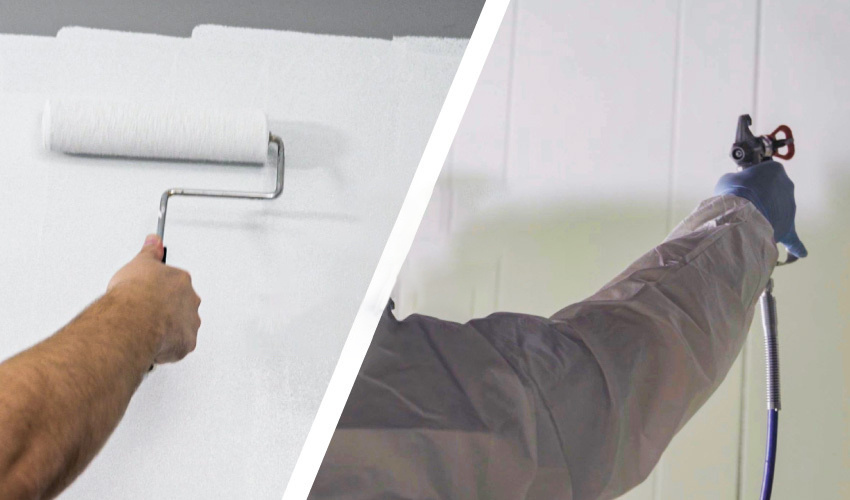 Rolling is better in the sense that the paintwork takes less time (for smooth and even surfaces) and money. They leave a smooth texture on walls and door faces.
When using rollers for painting, the professionals will make use of angled brushes to properly paint the corners and other design complexities. Even though we recommend rolling for small-scale projects, for large kitchen cabinets, it can prove to be less effective.
DIY Cost to Paint a Kitchen Cabinet
If you have an average-sized kitchen cabinet, you can expect your DIY painting project to complete successfully within $800.
Upon being extra budget conscious, you can get the project done for about $300 or less. However, the cost is just a tiny part of the work. After all, you have to involve in action and do all the labor work yourself.
DIY Kitchen cabinet painting will unerringly save a lot of money for the owners. If you have lots of free time and a helping hand or two, it is best to utilize that time for a DIY project.
In addition to the cost benefits, you will also develop more attachment to your kitchen and the work is much more fulfilling after completion.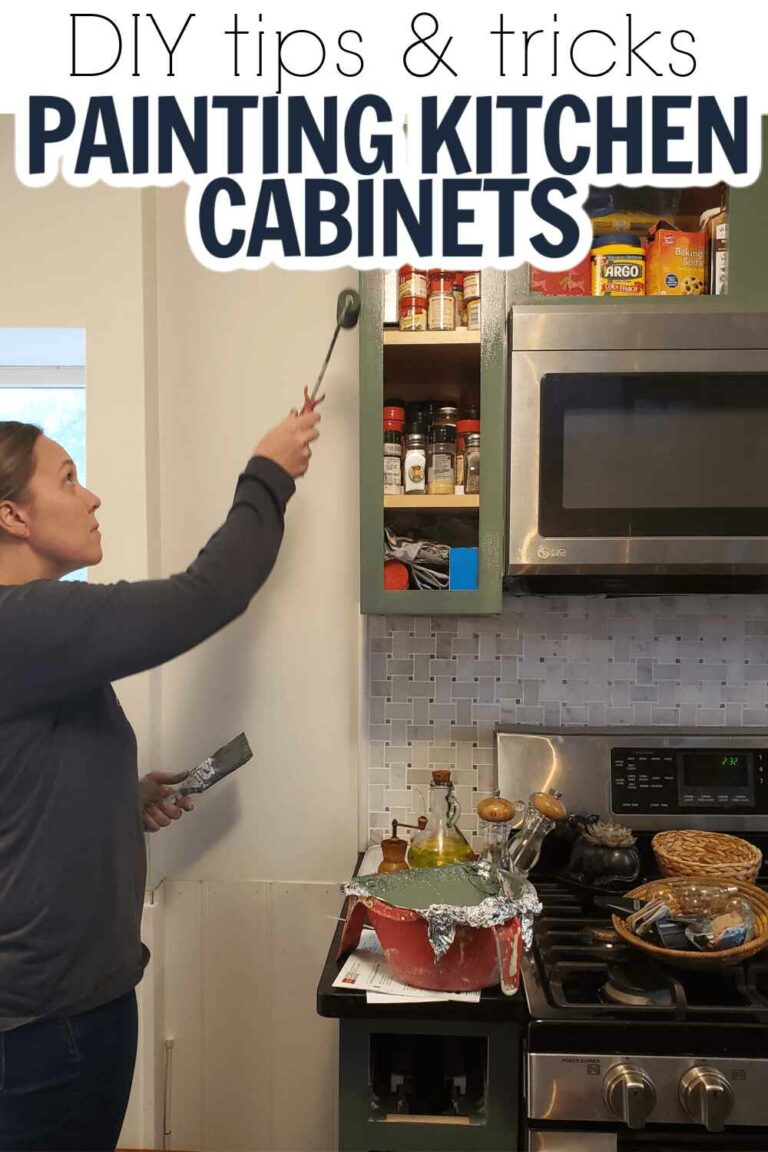 For an average-sized kitchen, we have prepared a sample cost report to inform you about the items you need and the expenditure you can expect.
| | |
| --- | --- |
| Required Items | Market Cost |
| Paints | $30- $70 per gallon |
| Primers | $40- $50 per gallon |
| Spray Gun (Rent) | $90 per day |
| Paint Brushes | $11 |
| Rolling Kits | $10 |
| Compound for Patching | $9 |
| Scraping Tools | $7 |
| Tapes (To Mask Sections) | $6 |
| Sanding Papers | $3 |
| Drop Cloth | $2 |
Depending on your project type, you can exclude some of these items from your buying list. This table gives you a general idea of the total cost that can incur in your DIY projects.
That said, raw materials are just half of the requirements. The real investment is your time and effort when doing your own DIY Kitchen Cabinet painting project.
If your Kitchen has about 20 cabinet surfaces, it can take you up to 60 hours to get things done. A professional painter can complete it in about half the time.
Even though this DIY project is time-consuming and frustrating, it is worth a try given the cost and satisfaction rewards.
DIY Kitchen Cabinet Painting vs. Professional Work
Be it a DIY project or a professional work, there are pros and cons to both the painting processes. When hiring a professional, the costs incurred are way higher.
But for that money, you can save yourself at least 70 hours of hard work. Furthermore, the work will have a significantly higher quality.
You can leave everything in the hands of the professionals and get yourself some rest. The stress that some extra money can save you is incomparable.
In the case of DIY paintings, you get a big win when it comes to expenses. Thus, if you are under a tight budget, it is best to learn and do it yourself.
If the painting work requires removing old paints, relocating appliances, and repairing damaged surfaces, you are in for at least 100 hours of dedicated work. The paint will never be of the same quality as done by a professional.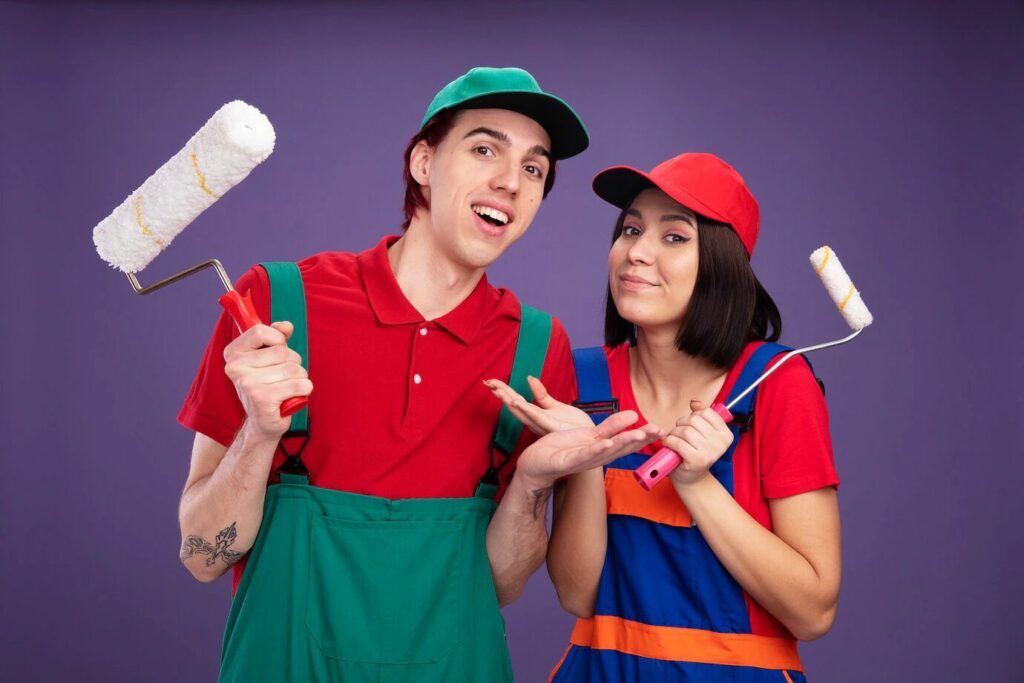 However, we are sure that you will love this one more as you develop an emotional attachment to it. The final benefit of doing it yourself is that you can divide the work between your family and friends, and have some quality time working together.
Quick Pro Tip: For most job holders, it is better to hire professionals as 70 hours of work can earn you the same money you save with DIY. However, the end result will be more satisfying (not in terms of quality) if you do it yourself.
How to Lower the Cost to Paint a Kitchen Cabinet without compromising the Quality?
All homeowners want high-quality living and cooking spaces. However, due to budget restrictions, many have to settle for unsatisfactory work. So, how to lower the cost of painting kitchen cabinets without making compromises on the quality?
Borrowing Painting Tools from Friends
Spray guns cost at least $70 per day. If you know a friend who has recently done some painting work in his residence, you can ring them and borrow the tools.
Not only spray guns but most other painting tools can also be reused. Furthermore, they might have leftovers of primers, unused brushes, and sanding papers. These small items combined can save a decent sum of money.
Selecting Best Value for Money Products
There is no doubt that the paints from the top companies like The Sherwin-Williams Co. and PPG give you the best results. However, they are not always the best value for money.
A lot of these top brands charge extra for their reputation and guarantee quality work. Thus, with some research, you can select a paint company that is not highly-priced but is almost equivalent when it comes to the quality of paint. This business concept works for everything and not just when buying paints.
If you are really serious about saving the cost of painting your kitchen cabinets, DIY is the best option. This can save you a few thousands of dollars in exchange for your time and efforts.
Even when aiming for the highest quality paint and result, Most DIY projects will complete for about $2000. This is because the labor costs are excluded. Also, the price of professionals can be really high according to their experience and work portfolio.
The final process does not include any painting. But we felt it is necessary to include this here as it can be a viable option for many homeowners who do not want to invest extra effort in hiring or doing the job themselves.
RTA stands for Ready to Assemble. These cabinets come with finished paint jobs of top-tier quality. However, they are fairly priced. You can get decent RTA Cabinets for less than the price of the highest quality paintwork.
If your kitchen cabinet is old and rusty, or if you are building and painting a cabinet from ground level, purchasing RTA cabinets can endow you the best value.
Why Should you Paint your Kitchen Cabinet?
So, you have a brand-new kitchen cabinet or an old painted one and are having difficulties deciding if you should paint your kitchen cabinet. Painting your kitchen cabinet can be really advantageous and below we discuss why.
You should paint your kitchen cabinet for the same reasons as you would paint other areas of your house. Fresh paint can liven up your living spaces.
Colors like white, gray-white, and blue can really set up the mood for working in the kitchen. Usually, kitchen cabinets are prone to dirt and litter.
Thus, your old paint is probably covered with grease and unnecessary stains. Give your kitchen cabinets a new look and see how it changes the way you view that space.
Who says painting kitchen cabinets should result in unnecessary expenditure? You can actually paint them to make even more money.
If you are looking to sell your house, freshly painted kitchen cabinets will help you secure a far better deal than leaving it old and weary.
It changes the entire perspective and investment scale of the buyers once they see freshly remodeled kitchen cabinets.
Usually, kitchens and bathrooms are the first priorities of many homebuyers and real estate investors, so painting a kitchen cabinet will never be a bad choice.
Moreover, even if you are putting your house for rental purposes, having a repainted kitchen allows you to considerably increase the rates. The return on investment is significant if you know a thing or two about business and sales.
Painting a kitchen cabinet is far more economic than replacing the entire set. If your kitchens badly need upgrading, you can try repairing and repainting them instead of choosing the costly alternative of replacing them whole.
Kitchens are the place where most work of any household takes place. The area is full of stains and smoke. If your kitchen cabinets were painted a long time ago, they might be less resistant to dust and dirt.
Furthermore, even insects can infiltrate the cabinet woods if they are less resistant to insects. This can lead to damage to the wooden frames.
Nowadays, there are high-quality paints that repel everything from weather to small creatures. Thus, this can be a good enough reason for you to consider repainting your kitchen cabinets.
FAQs
Is it worth repainting your kitchen cabinets?
Definitely. New paints will not only elevate the aesthetic aspects of your cooking spaces but also increase the overall valuation of your home. Repainting is also cheaper than replacing the cabinets, especially if you do the labor work yourself. This is also the reason many renovators make huge profits when they remodel houses and flip them.
Is it better to paint kitchen cabinets yourself or hire a professional?
This depends primarily on your budget. You should also carefully analyze the monetary value of your time.
If you have at least 60 hours to spare and love doing things yourself, you are better off doing the repainting job on your own. However, for a busy person, all the extra effort and frustrations might not be worth it compared to extra thousand dollars.
How long does it take to DIY paint kitchen cabinets?
This usually depends on the size of your kitchen cabinet and the quality of work you are looking for. To give an estimate, it will require you at least a week to fully complete the DIY project if you are working at least 8 hours a day.
Should you use rollers or spray paints in your kitchen cabinets?
For cabinet doors and faces that are even and flat, you can easily get great results using roller paint.
However, if the woodwork on the cabinets is detailed and curved, spray paints will bring out the best results. Most professionals primarily use spray guns to paint cabinets. However, they also use angled brushes and rollers in some specific cases.
Conclusion
Painting kitchen cabinets are growing in trend because they are one of the most used spaces in a house. An aesthetic and neat kitchen will definitely elevate the cooking and eating experience of the family members.
Even though they are not exactly cheap, they are considered a major upgrade with relatively less work. You can also make it a DIY project and save yourself a lot of money.
We discussed all the cost details and compared different painting methods throughout the article. All that is left for you is to decide whether to pick up the brush or pick up the phone.