David Bromstad's Love for Tattoos and Their Meanings
David Bromstad is an artist, designer, and veteran tv personality. Pursuing a career in art and design was always on the table for Bromstad.
He'd set off on a path that saw him work for the Disney Company before eventually exploring a career in television. David's popularity extended to multiple social media platforms. On Instagram, for instance, Bromstad has over 315,000 followers.
Most of his posts give us a glimpse into his relationship with his family. Additionally, we also get a good look at his colorful and outgoing personality.
Above everything else, David Bromstad has frequently displayed a love for tattoos.
What tattoos does David have? Their meaning
David has more than ten notable tattoos scattered across his chest, arms, abdomen, and legs.
– Limited Edition
The most obvious tattoo is the one on his chest. Bromstad has the phrase 'Limited Edition' drawn across his chest. It directly reflects his desire to appreciate his individuality and quarks.
David always encourages his fans to embrace what makes them different. It is a mantra that he strives to live by.
– 1973 & Lion
Aside from that, David also has the year 1973 inscribed below his chest. This is, of course, a nod to the year he was born. Other than that, he also got the image of a lion engraved on his leg.
This hints at the fact that he celebrates his birthday in mid-August, which makes him a Leo.
– Dancing unicorn, Family, and the Rainbow Flag
Another fascinating work of art David got on his body was the dancing unicorn. The unicorn is lined with rainbow colors, which is another hint at the fact that he is gay.
Interestingly, the unicorn in his tattoo is also dabbing, which was a popular dance move a few years back. Another nod to his LGBTQ community's support is his 'Family' tattoo.
Bromstad has the word family intricately engraved with rainbow colors across his upper abs. He got this particular tattoo in honor of 2020's Pride celebration.
David considers the people in the community as his family, and in this way, he honors them. The third colorful piece of art he has is the rainbow love tattoo.
In an interview, David revealed that the tattoo had several meanings. To begin with, it reflected gay pride as he was a part of the LGBTQ community.
Other than that, it also symbolized his deep appreciation for all things colorful. Lastly, David said it was a nod to one of the first shows he hosted, Colour Splash.
– Disney tattoos
Interestingly, despite parting ways with Disney, David still decided to get a Mickey Mouse tattoo on his shoulder. This isn't surprising, especially considering his love for the company.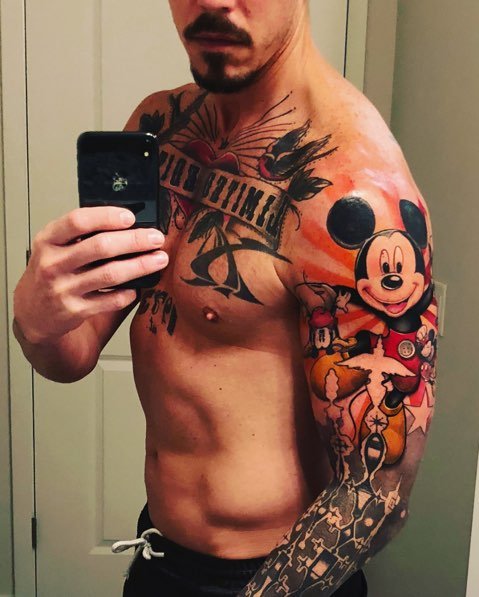 David grew up watching a variety of Disney cartoons with his siblings. He'd later work for the same company for a while, serving as an illustrator.
In a separate nod to the mouse kingdom, David also drew a large Disney castle on his thighs. His Disney-related artwork always inspires him to add a touch of magic to his designs.