Here's How Egypt Sherrod and her Husband DJ Mike Jackson Met. Love Life and Wedding Details
Egypt Sherrod runs a realtor business with her husband Mike Jackson. A private real estate group manages all her transactions, and the interesting bits convert into recordings for the TV show.
So far, she has two successful series- Property virgins and Flipping virgins, and both air on the HGTV platform. Egypt's husband Mike was originally a radio DJ, fitness trainer, and author.
So, they belonged to different backgrounds altogether. Despite this, they have become a surprisingly good couple set aside their differences. So, here's how Egypt Sherrod and DJ Mike Jackson met for the first time, their love life, and the wedding details.
Where They Met for the First Time
Speaking of their love life, it all started one day in a venue organized by Egypt for her program publicity. For Mike, it was an opportunity to start a new relationship.
He was recovering from a past relationship as a single father. To Mike, it was love at first sight, and he didn't want to miss an opportunity like this.
So, without hesitation, he begins a conversation with the organizer lady. He approached her numerous times, hoping to get close.
However, she was tired of people at this point due to her past relationships. She was avoiding him on purpose, but the longing for a love life was still there.
Love Life
The duo started their journey together at an extremely slow pace. It felt uncomfortable to start going out with a DJ, for she didn't like the music industry as much, and also, she wanted to focus on her business to succeed.
In her understanding, Mike was just a struggling DJ and her life of work was vastly different. In other words, they were incompatible.  Egypt was not a know-all person at that time either.
So, she asked her mentor to ask about people who can work with her as a team for a new project. In addition to a workforce, she also wanted to bring people who can help her grow practical skills and realtor knowledge.
In some time, her mentor arranged for a contractor to meet her, and to her surprise, it was the man she rejected so many times- DJ Mike. Surely, she must have felt embarrassed but the two started working together.
Each day, she saw him working diligently. Through this, he successfully managed to charm her into a loving state. From there, the two started dating. It went on for four years.
Egypt Sherrod and Husband DJ Mike Jackson Wedding details
The couple organized an engagement ceremony in 2008. Their original plan was to marry in 2009.
The wedding venue was in Mexico and most preparations were about to end. At the last moment, Egypt expressed her doubts about the marriage and refused to continue with the wedding.
Mike's emotional state was disturbed at the time. He was arguing with his ex-wife about the parenting of Simone- his daughter.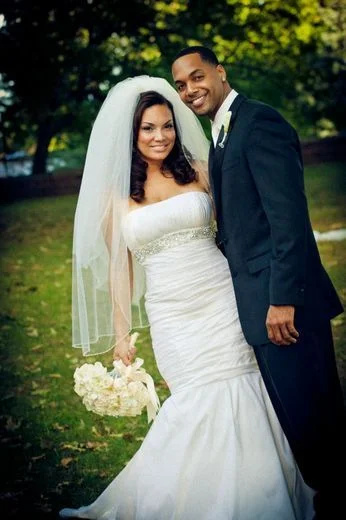 And adding to the conflict was Egypt, who refused to marry him after a long relationship. Eventually, they resolved all the conflicts and the duo tied the knots at a wedding ceremony held in New Jersey.
In September of 2010, they got into a marital relationship and started leading a beautiful life together. Simone also accompanied the couple from that point.
Present life
At present, the dynamic realtor duo is in a healthy relationship. Their family includes two new daughters the couple shares and Simone- Egypt's step-daughter from Mike's earlier relationship.
They are managing the business and the TV shows together. To support the community, they regularly organize donations and charity events.