Is Bob Vila From "This Old House" Alive? His Bio, Net worth, Age, Wife
Bob Vila is an American builder, television personality, and author. He is best known as the first host of the Emmy Award-winning PBS home renovation show "This Old House." Furthermore, Bob also hosted other similar shows like "Bob Vila's Home Again" and "Restore America." Read this to know if Bob Vila from This Old House is still alive.
Bob Vila Wiki, Bio
After his stint as a US Peace Corps volunteer, Bob returned to the States and began working as a contractor. The producers for "This Old House" came across his work when his renovation of a Victorian Italianate house won the "Heritage House of 1978" award.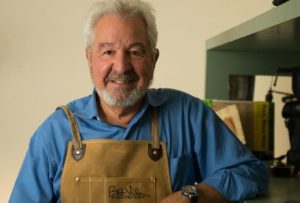 Bob was brought in as the host of "This Old House" in 1979, becoming the show's first host. He hosted the home renovation program for a decade, during which time he was nominated for a Daytime Emmy Award. Alongside master carpenter Norm Abram, Bob was instrumental in popularizing the show and the genre to the masses.
However, Bob left after a decade on "This Old House" following contract disputes during the filming of season 10. American builder Steve Thomas picked up the slack in Bob's place.
After leaving "This Old House," Bob became a spokesperson for the department store brand Sears. Subsequently, Vila returned to television with his self-titled home improvement show "Bob Vila's Home Again."
The syndicated series premiered in 2000 and ran for 16 seasons before being canceled. The show became simply known as "Bob Vila" beginning in 2005.
Besides that, Mr. Vila also hosted shows like "Bob Vila's Guide to Historic Homes" on A&E and "Restore America" on HGTV. He is also a fixture of the Home Shopping Network, where he advertises his eponymous brand of tools.
Mr. Vila is also a published writer and has authored over two dozen books, including acclaimed works like "This Old House: Restoring, Rehabilitating, and Renovating an Older House" (1980) and "Bob Vila's Guide to Buying Your Dream House" (1990).
Is Bob Vila Alive?
Owing to his lack of screen presence in recent years, rumors have been running rampant about whether Bob Vila is still alive today.
The 75-year-old has been gracing the screens since the late-'70s, but his career today is a far cry compared to his heyday. Conspicuous by his absence from TV screens, fans speculate that something terrible has happened to him. Fans will be overjoyed to hear that Bob Vila is still alive and in good health and spirits.
As he is climbing up in the years, Mr. Vila has slowed down considerably as a TV host. Besides the odd appearance on TV, like reunion specials of shows he hosted, for instance, Bob Vila has not taken any substantial work since the late-2000s.
Net Worth 
According to Celebrity Net Worth, Bob Vila has a net worth of $25 million. The 75-year-old is a longtime veteran of television, specializing in the home improvement genre of reality television.
He was an expert on "This Old House" on PBS for a decade. Furthermore, he also hosted his self-titled home improvement show, "Bob Vila's Home Again," AKA "Bob Vila." Besides that, Mr. Vila has appeared in a litany of other shows on several primetime networks.
Therefore, Mr. Vila's wealth is attributed to his decades-long career on television. Furthermore, his wealth is bolstered by several other interests like writing and entrepreneurship. Mr. Vila has authored over two dozen books and has his own brand of workman tools.
Bob Vila Married to a Wife. Their Children
Bob Vila is currently in his 56th year of marriage with his longtime partner, Diana Barrett. They tied the knot in 1975 and have three children together: son Christopher Vila (born in 1976), and daughters Monica Vila (born in 1978), and Susannah Vila (born in 1985).
Diana is a philanthropist and educator. She founded the Fledgling Fund, a benefit dedicated to promoting aspiring documentary filmmakers.
Furthermore, Mrs. Vila also serves on the Board of Directors of the Peabody Awards. A Harvard Business school graduate, Diana has taught at her alma mater and Harvard School of Public Health.
Age, Birthdate, and Height
Bob Vila was born Robert Joseph Vila on June 20, 1946, into a Cuban-American family. He is 75 years old at the time of this writing and stands at 5 feet 9 inches (1.75 meters). Bob inherited his passion and acumen for building from his father, who built his family home by himself from the ground up.
Bob is a native of Miami, Florida, and attended Miami Jackson High School. Upon graduating in 1982, Bob pursued and earned a Bachelor of Science degree in journalism from the University of Florida in Gainesville.
From 1971 to 1973, Bob served as a volunteer in the US Peace Corps. He was deployed to Panama, where he served for two years.